The Online Learning Experience at Highlands University
The 100% online programs at New Mexico Highlands University help you advance your career and achieve your goals without uprooting your life. Our online programs feature the same comprehensive curricula and expert faculty that our on-campus students enjoy with the added versatility of an online environment.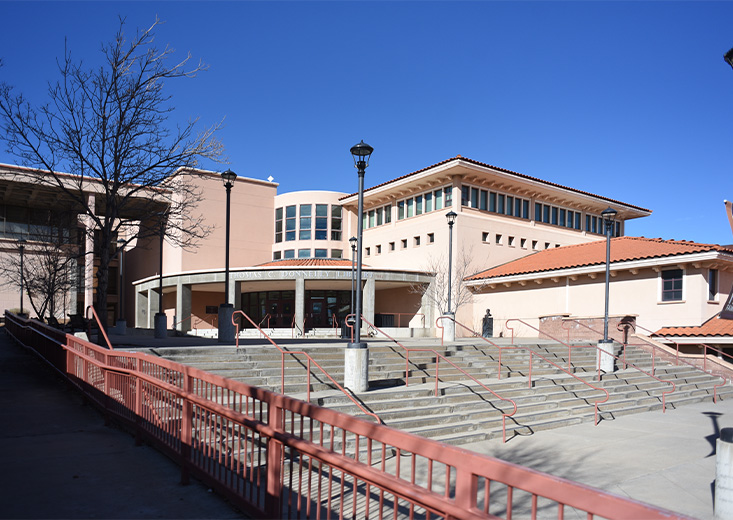 Fast and Flexible Online Education
Eight-week classes and generous transfer credit policies* mean that you can earn your degree quickly, wherever you are. Our faculty offer one-on-one advising, networking opportunities and in-depth coursework in an interactive online format, featuring the high-impact education learners at New Mexico Highlands expect. Designed with working adults in mind, our programs fit seamlessly into your life so you can advance your career while meeting your professional and personal obligations.
*The online MSW program teaches 16 week and 10 day courses, and does not accept transfer credits.
Find a Program
Our flexible online programs bring the best of our university to you, no matter where you are.
View Programs
Technology & Support
We provide the personalized support you need to be a successful online student.
Technology and Support
My time at Highlands was something special. So much culture and history packed in a small city. Who would've thought, I would've built lifelong friendships and family from a university in northern New Mexico. New Mexico Highlands University has it all.

– Michael M. JAckson
How Does Online Compare to On Campus?
There aren't many differences between our online and on-campus classrooms. Online students have the same high-quality education with added versatility.
How to Succeed as an Online Learner
Make connections. Whether you're connecting with your peers, instructors or Highlands University alumni, take advantage of the many opportunities to network.
Use the flexibility. Our programs provide unparalleled versatility. Make the coursework fit with your life by managing your time in a way that works for you.
Create a dedicated study space. One of the added benefits of online learning is that you can learn in the personalized environment you prefer.
Keep your eye on the prize. Remember why you chose to pursue higher education and stay focused on your personal and professional goals.
If you have questions about online learning, contact us online or by phone at 855-985-0689.
Frequently Asked Questions
Yes. Whether you learn in person or online, you will receive the same top-notch education from experienced, attentive faculty.
We are proud of our small class sizes. Most courses have a 15:1 student-to-faculty ratio.
Our faculty members take a student-first approach. We offer one-on-one advising and foster a family atmosphere online and on campus. Learn more about the online experience.
Yes. We provide technology support to all students by phone and email, even offering extended hours. Find out more.
Our online tutoring platform is available to students 24/7. Most subjects are included, such as writing, humanities, science, math and business. The library is also available 24/7 online for research, resources, articles and more. Learn more about the online experience.
You'll need a modern PC with camera, microphone, speakers and reliable internet access. Find out more about technology and support.