Online BA in Organizational Leadership in Public Safety
Duration

24 months

Cost per Credit

$325

Credit Hours

45
Program Benefits
Supportive, expert faculty
Affordable tuition
Academic credit for previous experience
5 starts per year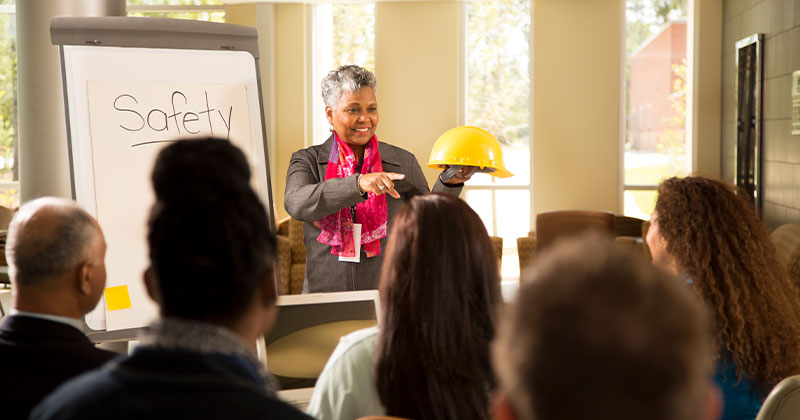 Enhance Your Skills with a Flexible, Affordable Degree Completion Program
New Mexico Highlands University's online Bachelor of Arts in Organizational Leadership in Public Safety degree is designed to deliver applicable skills for a wide range of private, government and non-profit career paths. The program allows public safety professionals to complete their undergraduate education with the flexibility of scheduling courses around work and family commitments. Finish your bachelor's degree in as little as 24 months and prepare for the next step in your career.
As the first online program of its kind in New Mexico, the BA in Organizational Leadership and Public Safety is designed for students who have completed occupational/technical degrees at community, vocational and technical colleges or those who have completed occupational/vocational training in U.S. Armed Services schools. Applicants must have at least 30 transfer credits for admission.
Advance Your Career as a Leader in Public Safety
The online BA in Organizational Leadership in Public Safety degree from Highlands University can help you enhance your marketability and open doors to leadership careers in public safety, emergency medical services, law enforcement and related disciplines. You'll be qualified to pursue positions like director of public safety and emergency management director.
With bachelor's degree holders earning around 40% more per year than those with an associate degree, continuing your education with Highlands University sets you up for career success.1
Explore Careers
Courses Focused on Leadership and Public Safety
As an NMHU online student, you will complete 45 credits of organizational leadership and public safety coursework, including one elective that aligns with your interests and professional goals. Each course is eight weeks long and delivered 100% online in an asynchronous format. Study topics like innovation management, budget management, homeland security and public administration are included.
Courses include:
Innovation Management
Organizational Leadership
Public Safety Leadership
Public Safety Ecosystems
View Complete Curriculum
Don't Wait to Apply
No Entrance Exams Required
We've designed our online application process to be quick, easy and stress-free. To apply to the online BA in Organizational Leadership in Public Safety degree program, you'll need:
Completed online application
Official transcripts
2.0 GPA
A formal application for transfer admission
30 technical/vocational credits, a certificate in a technical/vocational area, an associate degree or occupational/vocational training in U.S. Armed Services schools
In addition, it is preferred that applicants be fully employed in public safety, emergency medical services, law enforcement, fire departments or a similar discipline.
View the Admissions Process
Earn Your Degree at an Affordable Price
New Mexico Highlands University believes everyone should have access to high-quality, affordable programs. By transferring 30 required credits into the online BA in Organizational Leadership in Public Safety program, you can finish your bachelor's degree while saving time and money.
Talk to our admissions team for detailed information about financial aid, military benefits and more.
View Tuition Details
What You'll Learn
When you finish the online BA in Organizational Leadership in Public Safety degree, you will have the leadership expertise and public safety competencies you need to make a difference. The analytical training you gain in this bachelor's program will make you an asset to any organization, and the collaboration and communication skills you develop will be applicable to any role you choose to pursue.
Program Outcomes
Describe organizational leadership as it relates to individuals, communities and wider societies.
Identify organizational challenges and propose solutions by applying these leadership concepts.
Use information technology in the decision-making process.
Describe ethical principles underlying effective organizational leadership.
Employ effective communication skills for organizational leadership in public safety contexts.
Faculty Spotlight
Raymond Romero, Director/instructor with NMHU's Business, Media & Technology department.
Mr. Romero started with NMHU as an adjunct instructor in 2020 teaching graduate and undergraduate level classes. Mr. Romero now oversees the BA in Organizational Leadership in Public Safety and BAS in General Business.
Prior to NMHU Mr. Romero spent 21 years in law enforcement retiring in 2018 as a department of public safety director/chief of police. Mr. Romero managed the city's police department, fire department, city jail and was a board member representing the city's E-911 emergency dispatch. Mr. Romero started out as a patrol officer and worked in several different fields such as field training officer, internal affairs, training officer, domestic violence officer, violent crimes detective.
Some other leadership positions Mr. Romero held were senior patrolman, senior special agent/agent in charge overseeing task forces in human trafficking, money laundering, violent crimes and assisted the Internet Crimes Against Children and government accountability units. Mr. Romero is a former law enforcement instructor where he taught several different topics to state, federal, and pueblo law enforcement agencies, pueblo leaders and victim advocates.
Mr. Romero is a New Mexico Highland's alumnus where he earned an MBA with a focus in management in 2020, bachelor's degree in university studies in 2019 and an associate degree in criminal justice from Northern New Mexico College in 2017.
Learn from Public Safety Experts
Our faculty members are committed to delivering excellent education for all students. They embrace the highest standards to prepare students for the challenges and demands of an ever-changing workplace. Instructors come from diverse backgrounds so that students benefit from their unique, comprehensive perspectives. Highlands University graduates are competent, ethical professionals and managers who have mastered in-demand skill sets and are ready to apply what they learn.
An Accessible, Online Learning Experience
Online students have access to the same quality education that students at New Mexico Highlands experience on campus. Through engaging coursework and ongoing communication, our faculty ensure that you are challenged while still maintaining the flexibility you need in your busy life. Small class sizes allow you to connect with classmates and be part of a supportive, cohesive program.
Asynchronous coursework
Personal attention
Diverse student population
Explore Online Learning
Answers to Common Questions
Explore our frequently asked questions. If you don't find what you're looking for, feel free to reach out to us for assistance or more information.
Currently, scholarships are not available specifically for this program. Please consider the following options for funding your degree:
Complete the FAFSA® to determine financial aid eligibility. Highland University's FAFSA® code is 002653.
Apply for a loan.
Military students qualify for in-state tuition rates and various grants and scholarships.
Many employers offer tuition reimbursement, encouraging their employees to advance their careers and gain vital skills.
Prior work experience is not required for admission to this program, but it is preferred that applicants be fully employed in the area of public safety, emergency medical services, law enforcement, fire departments or similar disciplines. Learn more about our admissions policy.
We offer five start dates throughout the year, so you can apply anytime. Our dedicated enrollment team can help you determine the right start date for your schedule and goals.
No, this program does not follow a cohort model. You may take courses in the order you choose as long as prerequisites are met.
This program does not include a residency requirement. You can learn from anywhere and complete your studies in a flexible online format.
This program is designed to give you the knowledge, analytical abilities and critical thinking skills you need to pursue positions of leadership in areas like public safety, emergency medical services, law enforcement, fire departments and more. Possible job titles include director of public safety, chief security officer, emergency management director and director of operations.
Visit our FAQ page